Like so many other industries, the consumer packaged goods (CPG) market is experiencing tectonic shifts. Big traditional brands are competing with smaller upstart brands. Older consumers married to legacy products are shopping alongside younger consumers who aren't married to anything. Mass-market products are jockeying for shelf space with private-label goods. And the rise of digital sales and marketing channels have created shake-ups everywhere, in everything.
But no matter a CPG organization's size, nor whether it's new or legacy, everyone is having to take a closer look at how to improve their current field service solutions (FSS) to keep up with evolving trends without losing market share.
Digital solutions that can integrate essential functions — marketing, merchandising, distribution, and fulfillment — go a long way toward ensuring effective in-store operations and execution. More importantly, it enables companies to quickly learn, respond, and adapt to the demands of today and predict the demands still to come.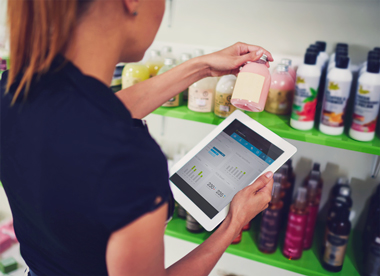 7 challenges that'll transform the CPG industry
Rising popularity of private-label brands.

Consumers and retailers alike are driving the growth of private-label brands.

Today's consumers are more comfortable purchasing private-label than ever before

, due in part to millenials having fewer hang-ups and a more positive perception around this type of brand than older shoppers. This has encouraged more retailers to introduce their own private-label brands into stores.

Increasing demand for fresh food.

Sales of organic and fresh food items are increasing, which means consumers are moving away from canned or shelf-stable items. In fact,

the growth rate of organic food products

in 2017 outpaced the overall food market by a factor of six.

Speedier product lifecycles.

As more consumers seek healthier lives and diets, more brands have had to reformulate products to meet the demand. According to Consumer Goods Forum, about 180,000 products globally were redesigned in 2016, more than double that of 2015.

Amazon's influence.

It's impossible to ignore the way Amazon has rattled the retail sector. In addition to selling furniture, electronics, clothing, and other items in an online marketplace, Amazon has now introduced its own packaged food and beverage products into the mix. And in the first half of 2017, CPG products accounted for

41% of U.S. Amazon's private-label sales share

.

Digital transformation.

Digital sales channels have opened the door for newer CPG brands to gain entry and market share. According to Nielsen data, six large food and beverage manufacturers in the U.S. with combined sales of $233 billion saw their collective share of the brick-and-mortar market fall to 31% from 33% in 2015.

Modern demand forecasting.

Relying on traditional methods of demand forecasting virtually ignores the role that IoT (Internet of Things) and connected data plays. Today, CPG brands have to be able to juxtapose huge amounts of data with external factors to more accurately forecast demand.
But as with most challenges, there are also inherent opportunities. One way CPG brands can respond to these challenges is to review current field practices and technologies in an effort to become more agile and efficient, and therefore more competitive.
FSS software for a multi-functional workforce
CPG field service solutions have to cover a lot of bases so that each field rep is equipped with the information they need to execute everyday tasks — whether it's getting updated pricing and product information, stocking and displaying products correctly, keeping retailers informed of promotions and pricing changes, or streamlining delivery.
Increasingly, forward-thinking companies are embracing cloud-based software solutions because it arms them with modern, data-driven capabilities. Cloud FSS solutions enable field teams to access critical information in real time from any device and for many different use cases, including:
Managing demand through multiple channels
Planning workloads based on time, cost, client, data, and performance reporting
Communicating with and enabling field and store workers via mobile applications
Managing workflows based on tasks, orders, customer preferences, and locations
Managing operations to include marketing, merchandising, fulfillment, labor, cost, logistics, pricing, and invoicing
But even more importantly, deriving insight from FSS can create a decided competitive advantage. FSS solutions provide immediate, unfettered visibility into your key performance indicators (KPIs), intelligence into how and when to visit customers, and actionable information about the best ways to execute in the field what gets planned in the head office.
The CPG industry is rapidly evolving; it's time the tools CPG companies use do too.


Download The Field Guide to CPG Mobile Apps now for a list of important guidelines that will help your business find the right mobile field app without breaking the bank.
Contact Spring to find out how our solutions can streamline your CPG field services and bring you ahead of the competition.